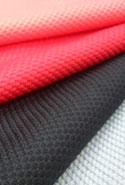 Taiwan, the King of Knitted Fabric has a long history in manufacturing and exporting fabrics and fibers. Even though Taiwanese suppliers have faced price competitions from neighboring countries in the recent years, its good quality is stand out for word of mouth.
The market growth is being fuelled by the emergence of new fibers, new knitting fabrics and innovative process technologies. New high-tech fabrics (jerseys) are being developed for a wide range of active sports such as cycling, hiking, mountaineering and skiing.
C&F Textile Corp., a Taiwan-based manufacturer of knitted fabrics announced its latest "single jersey moisture management fabric" which is made from performance fibers and yarns. It is especially developing for high-end performance sportswear and has already designated by well know brand for their sportswear.
The single jersey moisture wicking fabric remains soft, breathable, wrinkle resistant, moisture absorbing, quick dry out, fine elasticity, UV-cut, good durability, anti-bacteria and easy to care. It can be machine washed and dried. Use warm water and add a fabric softener to the final rinse cycle. Machine dry at a low temperature and remove articles as soon as the tumbling cycle is completed. Moderately warm iron is also available.
Tags View
NanoRed® is a registered trademark of LEALEA Enterprise Co., Ltd. is a high-performance polyester fiber with the function of accumulating heat & keep warmth, the fiber with nano powders inside can absorb the energy of light & body, and then release FIR to keep the body warm and healthy.
CoolTouch® is a registered trademark of SHINKONG takes advantage of a unique cross section and the latest proprietary polymer modification technology. The CoolTouch® renders moisture absorbing and quick drying performance to achieve a dry, comfort and health feeling on the body.
SCOTHGARDTM is a registered trademark of 3M is specially developed for casual clothing. Fabric remains soft and breathable, help colors stay brighter and wicks moisture for enhanced comfort. SCOTHGARDTM is also developed for active wear. Fabric remains soft and breathable, colors stay brighter, draws moisture away.
SecoTec®, cross-section ditch design is especially for moisture management which obtains excellent comfort in wear: dry, soft and breathable.